Skinner in Ethiopia (1903)
3 septembre 2015
Le 17 novembre 1903, le consul américain Robert Peet Skinner (1866-1960) débarque à Djibouti avec 30 hommes de troupe, accompagné de Horatio Watson Wales, secrétaire de l'expédition, et du Dr Abraham Per Lee Pease, chirurgien.
[blue_box] On November 17th 1903, American commissioner Robert Peet Skinner (1866-1960) arrives in Djibouti with 30 US Marines, together with secretary Horatio Watson Wales and surgeon Dr Abraham Per Lee Pease. [/blue_box]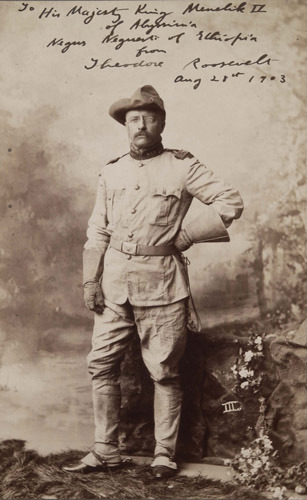 Skinner a été chargé par le président Théodore Roosevelt de rencontrer l'empereur Ménélik et de conclure avec lui un traité de commerce et d'amitié.
[blue_box] Robert Peet Skinner was commissioned by President Theodore Roosevelt to open trade routes with Ethiopia. [/blue_box]
L'équipée prend le train de Djibouti à Diré-Daoua, alors terminus de la ligne.
[blue_box] The mission took the train in Djibouti to reach Dire Daouah, then final stop of the newly built railroad. [/blue_box]
De là, elle se rend à Harar où Skinner rencontre le ras Makonnen.
[blue_box] From there, they take the French road to Harar, where Skinner meets ras Makonnen. [/blue_box]
Puis arrive enfin à Addis Abeba, terme de l'expédition, le 18 décembre après une marche de 22 jours. Skinner est reçu par le roi.
[blue_box] And the American Mission finaly reaches Addis Ababa on December 18th after a 22 days walk. A banquet is held in the Aderash, the reception hall, for Skinner and his troop. [/blue_box]
Le Massillon Museum vient de mettre en ligne un ensemble de carnets de l'expédition conduite par Skinner (Skinner, Wales et Peales sont originaires de Massillon, Ohio),
[blue_box] This mission in 1903 was led by three Massillon men: Robert Peet Skinner, Dr. A.P.L. Pease, and Horatio Watson Wales. The Massillon Museum, Ohio, has just put on line scrapbooks and photographs taken by or from the collection of Robert Peet Skinner. See here. [/blue_box]
ainsi qu'un lot remarquable de photographies faites par Skinner (ou ses hommes). Voir ici.
On y trouve également des photographies rassemblées par Skinner lors de cette mission et prises par deux photographes établis alors en Éthiopie : Jean Adolphe Michel — dont nous avons déjà parlé dans ce blog (voir catégories ou l'outil de recherche) — et Secondo Bertolani. L'un vit à Harar, il est en charge de la Poste ; l'autre à Addis Abeba, où il est agent consulaire de l'Italie. Tous deux pratiquent abondamment, en plus de leur métier principal, l'activité de photographe.
[blue_box] Among the photographs collected by Skinner during his mission, one may find pictures taken in Ethiopia by Jean Adolphe Michel (it has already been much discussed about Michel in this blog) and by Secondo Bertolani. The first one lives in Harar where he manages the Post Office; the second in Addis Abeba, as a consular agent for the Italian legation. They both are very activ photographers, in addition to their main job. [/blue_box]
L'ensemble de ces documents sont d'un intérêt considérable et il faut saluer cette initiative remarquable du musée de Massillon d'offrir ainsi en ligne l'accès à cette collection. Those documents are of great interest and we do welcome this very commendable initiative of Massillon Museum that allows an easy and free access to them.
Cela nous vaut de découvrir plusieurs images du chemin de fer, de la gare nouvellement construite de Diré-Daoua, de Harar puis à Addis Abeba, des images (intérieur et extérieur) du grand hall de réception du palais royal, l'adérache, et aussi plusieurs portraits du roi, de la reine et de ses proches.
[blue_box] We may thus discover new pictures of the railroad, the newly buit station in Dire Daouah, pictures of Harar and, in Addis Ababa, views of the Aderash (inside and outside). There are also several portraits of the king, the queen and their relatives.
This online publication confirms the date: Sunday 27th December 1903 of this extremy interesting photograph of the king, an image already analized here.  [/blue_box]
Ce n'est pas le moindre intérêt de cette mise en ligne, car elle confirme la date du dimanche 27 décembre 1903 pour l'une des très intéressantes représentations du roi dont nous avions déjà parlé ici. On y voit à gauche du roi (portant un fusil sur l'épaule) Wässan Sägäd, alors l'héritier putatif au trône, qui décède brutalement en mars 1908. Wässan Sägäd a souvent été confondu dans la presse occidentale avec Lidj Iyassu, lequel succèdera à Ménélik (voir ici).
Elle permet aussi d'attribuer très probablement à Secondo Bertolani plusieurs très belles images du roi, de la reine et de ses proches, qui étaient jusqu'ici attribuées à tort à d'autres photographes.
[blue_box] We may also very likely credit to Secondo Bertolani those beautiful portraits of the king, of the queen Taytu and of a few relatives,her sister Woizero Desta, and her nephew Gessese. They were so far wrongly attributed to some other photographers living in Ethiopia.  [/blue_box]
Ce portrait en majesté du roi était par exemple souvent faussement attribué à Arnold Holtz du fait que celui-ci en avait publié une version en carte postale vers 1908,
[blue_box] For example, this portait of the king was generaly credited Arnold Holtz because Holtz published it ca 1908 as a postcard or in an article entitled Unter dem Banner des siegreichen Löwen Kaiser Menelik II.  [/blue_box]
ou bien dans cet article, Unter dem Banner des siegreichen Löwen Kaiser Menelik II.
J'aurai l'occasion de reparler de Bertolani dont une partie de l'œuvre photographique, conservée à l'Istituto italiano per l'Africa e l'Oriente (IsIAO) à Rome, est aujourd'hui malheureusement inaccessible (l'IsIAO, en liquidation judiciaire, est fermé depuis trois ans), et d'examiner plus avant ces photographies.
Pour le présent, je tenais à saluer et à faire connaître le remarquable travail réalisé en juin 2015, suite à nos conversations, par l'archiviste du Massillon Museum, Mandy Altimus Pond, à partir du travail de numérisation réalisé sous sa supervision en 2012 par Justin Haynes, afin de rendre accessible en ligne cette collection (don de Mrs. Horatio Wales). Je tiens également à remercier cordialement Alexandra Nicholis Coon, Executive Director.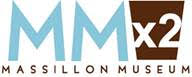 Une exposition virtuelle est également visible sur le site du musée, témoin de celle qui avait été présentée en 2012.
[blue_box] I shall soon talk again about Bertolani and his photographs. An important collection of his work is alas not accessible for the time being due to the situation of the IsIAO in Roma, that went bankrupt ("in liquidazione coatta amministrativa").
For now, I want to salute and make known this enormous amount of work done by the Massillon Museum in order to give access to thoses documents (gift of Mrs Horation Wales): by archivist Mandy Altimus Pond, who put those collections on line after our talks last spring, intern Justin Haynes who had numerized the scrapbooks and photographs in 2012, under MA Pond's supervision, for an exhibit that was held then (you may reach the virtual exhibitions of Massillon Museum here). Additionally, I want to thank warmfully Alexandra Nicholis Coon, Executive Director, for her kind welcome. [/blue_box]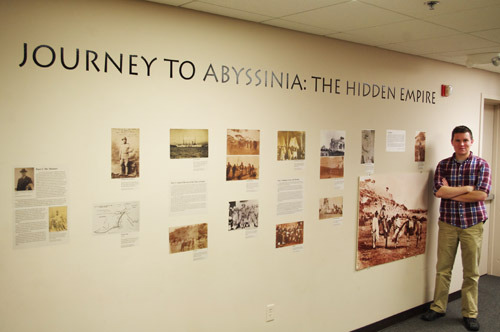 [grey_box]Microfilm: The entire Abyssinia scrapbook has been microfilmed and is available through the Massillon Public Library.
Digitization: The pictures are located on the MassMu server as high resolution JPG images, color-corrected, and backed up each night. A backup digital copy exists onsite and offsite.
Physical Storage: The scrapbooks are stored in individual boxes, labeled with the country and time period they were created in. These boxes are stored together with additional Robert Peet Skinner archives, located on Archives Shelf 3E.
Access Restrictions: There are no access restrictions to this collection. For rights and reproduction fees for personal use or publication, please contact the Massillon Museum: massillonmuseum.org/100[/grey_box]
Enfin, on trouve également en ligne, complément indispensable à ces images et ces carnets, l'intégralité de l'ouvrage publié par Skinner en 1906, suite à cette expédition, Abyssinia of to-day: an account of the first mission sent by the American Government to the court of the King of Kings, 1903-1904. London: E. Arnold ; New York: Longmans, Green, 227 pages, 32 planches. On y retrouve ces images avec les crédits à Michel et Bertolani pour les photos d'Harar ou du roi. Les photos montrées sans crédit sont en revanche celles faites par l'équipe de Skinner.
[blue_box] Together with those documents, one should read Skinner's book, Abyssinia of to-day: an account of the first mission sent by the American Government to the court of the King of Kings, 1903-1904. London: E. Arnold ; New York: Longmans, Green, also available on line. [/blue_box]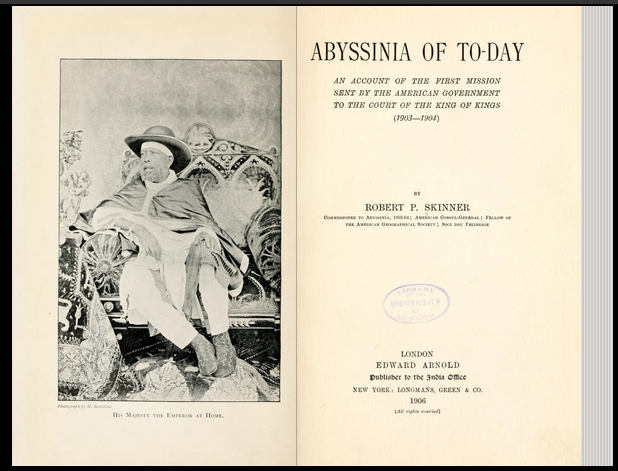 Le livre se termine avec le retour de l'expédition américaine sur Djibouti, qui se fait par train depuis la gare de Diré-Daoua.
[blue_box] The narration ends with the return by train from Dire Daouah. The scrapbook recalls too this final journey. [/blue_box]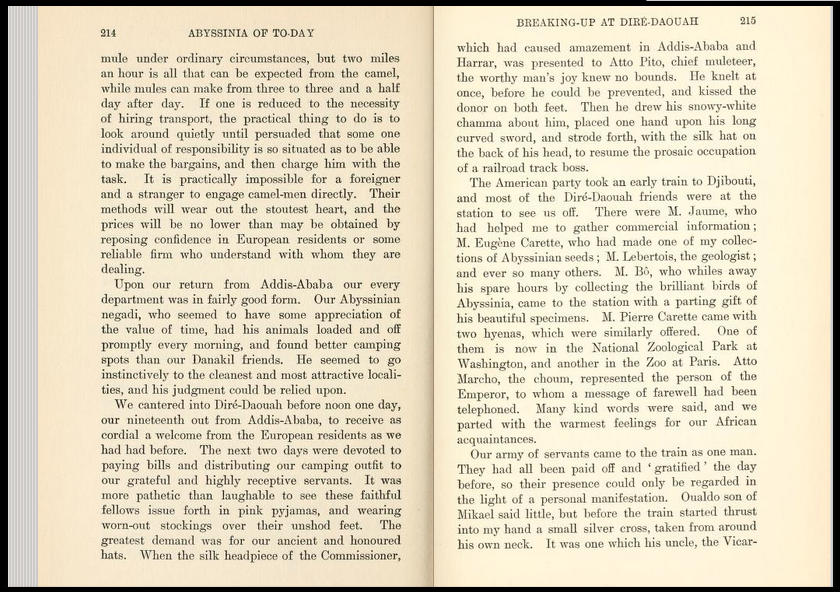 ❈
Réagissant à la publication de cet article, Francis Falceto me signale que le récit du voyage de A Peer Lee Pease, le chirurgien qui accompagne l'expédition Skinner, est également disponible en ligne. Le voyage en Abyssinie fait partie de ses Winter Wanderings.
[blue_box] Francis Falceto informs me that Winter Wanderings by APL Pease, with the narration of his trip in Abyssinia, is also available on line. [/blue_box]